Alison Eckart usually likes to give her students high-fives.
So on Tuesday, the Del Norte High School principal had to learn to get used to air-fives, at least for a little while.
"It was surreal. It was surreal, I thought," Eckart said.
Students returned to the high school Tuesday for in-person classes for the first time this school year after the county saw a reduction in virus tiers last week. While much was different about this "first day" of school, Eckert said the day was incredibly important.
"On a scale of one to 10, it's about a 12. And I don't mean that lightly," Eckart said in an interview Tuesday afternoon, just a few hours after students left campus.
According to Eckart, the return to campus was generally smooth. Balloons and streamers set up by the student leadership class lined the hallways, and district administrators were on hand to welcome students and resolve technical issues.
"I never thought I would be so delighted to see a class half full," Eckart said.
Those half-full classes weren't an attendance problem: For now, about half of the students at the school attend in-person classes each day, while the other half watches class from home, before the two groups switch the next day. Students have the choice to continue with all-online classes instead, too.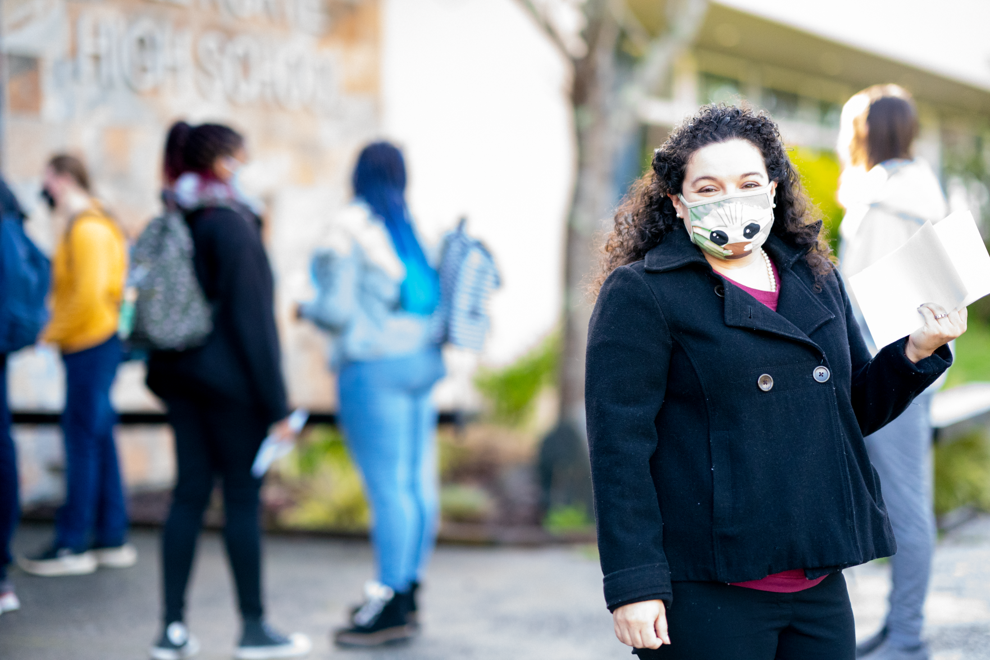 While that setup means classes can easily socially distance, it also creates a lot of new challenges. Teachers once again have to adapt to a whole new style of teaching, with half their students in their classrooms and the other half on a screen.
"It's just exhausting, and huge," Eckart said. "They will rise with the challenge."
The split schedule also creates challenges with consistency. Eckart said the school will be watching to see if students are attending both in-person and remote classes regularly.
Still, she credits the school's staff – teachers, custodians, kitchen employees, librarians and more – with changing their school days to make it work.
"Everything was a paradigm shift," Eckart said "Everything has changed. Everybody is a first-year teacher. I'm a 25 year vet at school, and I'm a first year teacher."
In an update to students and families Monday, district Superintendent Jeff Harris walked through some of the safety precautions still being taken at the school in light of the reopening.
"I do want to remind everyone that, as our students do come back to Del Norte High, we will be enforcing the 'Hands, Face, Space and Home' concepts," Harris said.
Students wash their hands when entering and leaving classrooms and are required to wear masks at all times, Harris said.
"We will also be mandating that students are adequately spaced, that social and physical distancing is occurring," Harris said.
What's more, students are required to self-screen for COVID-19 symptoms each day to be allowed onto campus to make sure they show no COVID-19 symptoms and haven't had any recent contacts with infected individuals.
"We need to be very cautious about our reopening of Del Norte High School. The last thing we want to have happen is to have Del Norte High come back, and then immediately have to start closing classrooms or groups of rooms because of infections."
The district has been fortunate, as far as COVID-19 cases are concerned. Since the elementary school, middle school and some other district facilities opened in October, the district hasn't seen any person-to-person spread of the virus in school buildings.
"This has been a long time in coming, we know that everybody's excited, but we need to make sure that we're all aware of the responsibility that we have, as a school, as a district and as a community, to help keep Del Norte High and all of our schools open," Harris said.
But in spite of all that, Eckart said students welcomed the chance to be at school.
"What the kids were saying is, 'it's just so good to be back,'" Eckart said.
Tuesday wasn't the high school experience students are used to, she said. Smiles were hidden behind masks, handwashing was required and hallways were divided in two to ensure proper flow.
"It was very sobering to me," Eckart said. "There is not as much jocosity. It's not as loud in the halls."
Hopefully, some of that energy will slowly return to campus as student clubs and activities ramp up, Eckert said.
Staff will be evaluating how the first day went, too. Eckart said they took videos of movement in the hallways, and will be analyzing them with students to see what can be improved over the next several weeks.
But for now, the first day of school is a good start.
"I think just having high school back gave everybody hope today," Eckart said.