A woman and her dog are the latest to be rescued from an area ocean side cliff.
It is the second time in two weeks that first responders were called to rescue a person who had gone off a trail along a vista between Gold Beach and Brookings.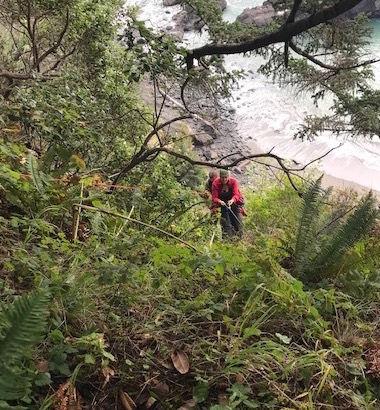 The latest rescue occurred on Monday, Sept. 30, according to a release from Curry County Sheriff John Ward.
At about 1:42 p.m. the Curry County Sheriff's Office received a 911 call from Sere Bauer, 40, reporting that she was stuck on a cliff side with her dog after slipping down a steep embankment near Natural Bridges between Gold Beach and Brookings.
Bauer identified herself as was a radiologist who work at Sutter Coast Hospital in Crescent City. She said she had parked her car at a wayside and walked a coastal trail for about a half hour before becoming stranded off trail trying to make her way to the beach below. Bauer stated that she was holding onto shrubbery but that she was slipping.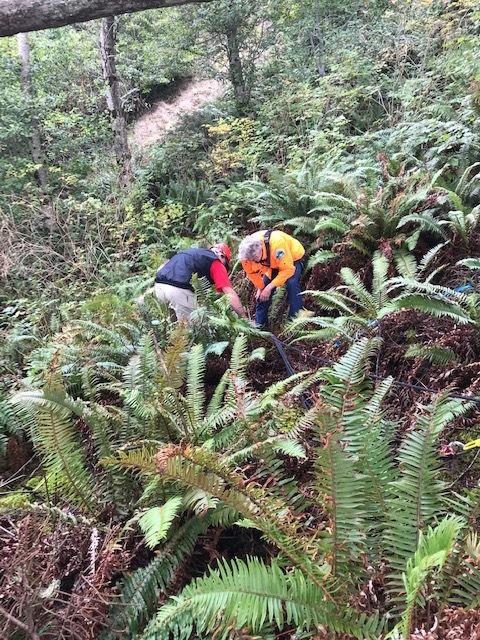 Curry County deputies and Oregon State Police responded to the area while the Curry County Search and Rescue (SAR) team responded with rope rappel equipment. Deputies and troopers located Bauer's car parked at the Natural Bridges wayside while a trooper drove along the highway with his siren on hoping Bauer could hear the siren.
Curry County Dispatch Deputy Synthia Westerman kept Bauer on the line reassuring her and reporting information back and forth from Bauer through dispatch to deputies and troopers until the first responders were able to locate Bauer.
The Curry County Search and Rescue team arrived and hiked down to the steep bushy cliff, located Bauer and set up a rope system above her. Bauer was about 200-feet below the SAR team and about 200-feet above the rocky beach below. SAR member Art Tarin rappelled down to Bauer and secured her with a climbing harness and the rest of the SAR members raised both Tarin and Bauer back to the top. Tarin then rappelled back down and was pulled back up with Bauer's dog.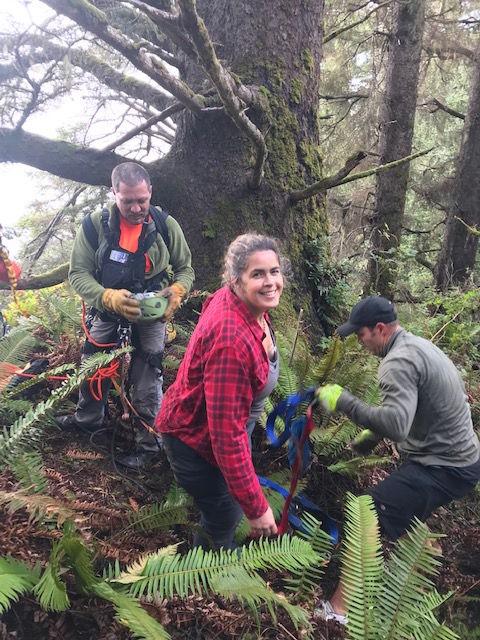 The first cliff rescue happened on Friday, Sept. 20, when the Curry County Sheriff's Office received a 911 call from Callie Ellwood, 28, of Windom, Kansas. She said she was stranded on a rock cliff after sliding down a craggy embankment above the beach.
A Coast Guard helicopter crew was able to locate Ellwood and hoist her into the craft. She was flown to Brookings Airport, where she declined medical attention. A sheriff's deputy drove Ellwood to her vehicle at the wayside.
Officials are urging anyone walking or hiking on coastal trails to know the dangers of the wild, rugged areas along the Oregon and California Coast, pay attention to posted warnings and to be alert.