Glenna was born in and graduated high school from Cottage Grove, Oregon. After high school, her family moved to Bandon, Oregon where she married Robert Schellong and had two children, Kelly & David. Glenna worked many jobs but is remembered as being a favorite waitress at Gerry's in Bandon. In 1978, Glenna moved to Crescent City, California, and married Charles Cravey,
Sr. They owned the B.J. Thomas commercial fishing boat and she continued to work as a waitress and bartender at many local establishments. Many called her
their favorite bartender because she was always kind, had a smile and made the best drinks in town!
Glenna had a passion for children and Veterans. She always donated to St. Jude Children's Research Hospital, Wounded Warrior, and any other Veteran or First Responder cause. She volunteered for many years at VFW Post 1381 and was a Lifetime member of the Auxiliary. In past years, she also volunteered at the cat shelter. She loved her cat, Angel, and loved animals in general. There weren't many days that you'd meet Glenna, when she wasn't smiling. She absolutely loved country western music, cooking for Veterans, and was always the first one on the dance floor.
Glenna loved to read. She would sometimes read a book a day and trade books with family and friends, but her lifelong love, was the Oakland Raiders. She attended many games and shared that love with her daughter and grandson. In her final days, she watched the Raiders win a game and some of her last words were, "Go Raiders!"
Glenna was feisty, fun-loving and adored her family and friends. She loved her children more than life! Kelly & David feel like they were the lucky ones to have had a mother loved by so many. In her final days, she was surrounded by her daughter, son, brother, grandson, and dear friends as she battled cancer. She put up one hell of a fight and made us all shake our heads many times as she continued to tackle each day. She was so strong and had deep a connection to this life, but towards the end of her journey, she knew she was on her way to be with the Lord and her mom.
Glenna is survived by her Daughter, Kelly Schellong (George), Son, David Schellong, Brothers Ron Holland (Cindy), and Stan Goodell (Sandy); Sisters Becky James, and Lori James; Daughterin-law, Jean Loosemore (Gerry); Grandchildren, Machelle Gardner (Matt), Erika Callegari (Fiero), Wade Mayes (Kelsey), Allen Schellong & Taylor Schellong; Great Grandchildren, Hannah, Trynity, Daelynn, AJ & Ryder; Special friend, Mike McGarity, and Aunts, Uncles, Nieces, Nephews, Cousins and many dear friends.
She is preceded in death by her dad, Ray Goodell; Mother, Barbara James;
Brothers Allen Goodell & Michael James.
The family will have a graveside service on January 29, 2022 at 12 pm at IOOF
Cemetery in Bandon, Oregon, followed by a luncheon at the Bandon VFW Hall.
A "Larger than Life Celebration" will be held in Crescent City, California at a later date. The family requests donations in Glenna's memory be made to VFW Post 1381, 810 H Street, Crescent City, California, 95531 or to St. Jude Children's Research Hospital.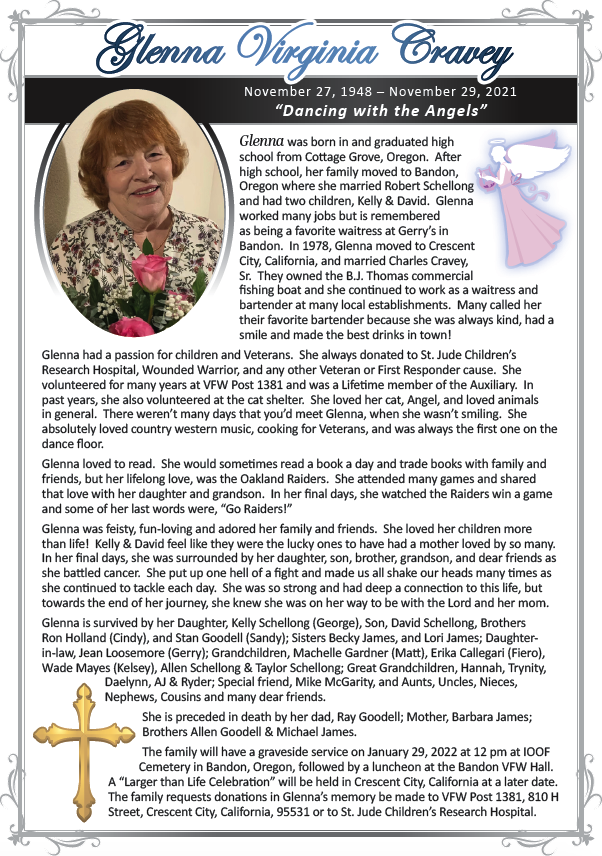 To plant a tree

in memory of Glenna Cravey

as a living tribute, please visit Tribute Store.