Raymond Mattz of Requa, California, began his journey on September 2, 2021. He was born on July 20,1942 to Emery and Geneva Brooks Mattz.
A traditional Yurok, Raymond lived most of his life on the Klamath River, between his family's homes at Brook's Riffle and Rek-woi. Raymond descended from a long line of leaders, medicine and feather people. Coming from the Head House of La'yeq - the Jump Dance House at Rek-woi, he understood the Yurok people's inherent connection to the Klamath RIver, and dedicated his life to the protection of the people, the River and the Salmon. He spent the majority of his life fishing and hunting on the River to support his family and enjoyed being at one with the River he loved most. Rain or sunshine you could find him on the River and if you were his fishing partner you had better not be late, because he took his fishing very seriously. Raymond was a legendary fisherman. He perfected gillnetting to an art and science. He was a respected fisherman because he worked hard. He knew more about how the River and fish moved, and how to catch them then most, skills he developed through his life long devotion to the River. His fishing techniques are notorious amongst fishermen, but even he was surprised when he caught a huge great white shark in the mouth of the Klamath River!
Raymond was also an athlete. He loved to run and box. He was also an artist, and when he was young he painted store windows during the holidays to make extra money. As he got older, he enjoyed working on regalia to add to the family's dance collection. Raymond was elected to serve as a Yurok Tribal Councilman and was a member of the Yurok Cultural Committee. He was very committed to restoring the Klamath River's natural fish populations and worked with his friend Ronnie Pierce to develop a fish hatchery on Omagar Creek where he raised salmon fingerlings for several years. He enjoyed watching the salmon grow and was so proud to see his babies swimming downstream to the Klamath River.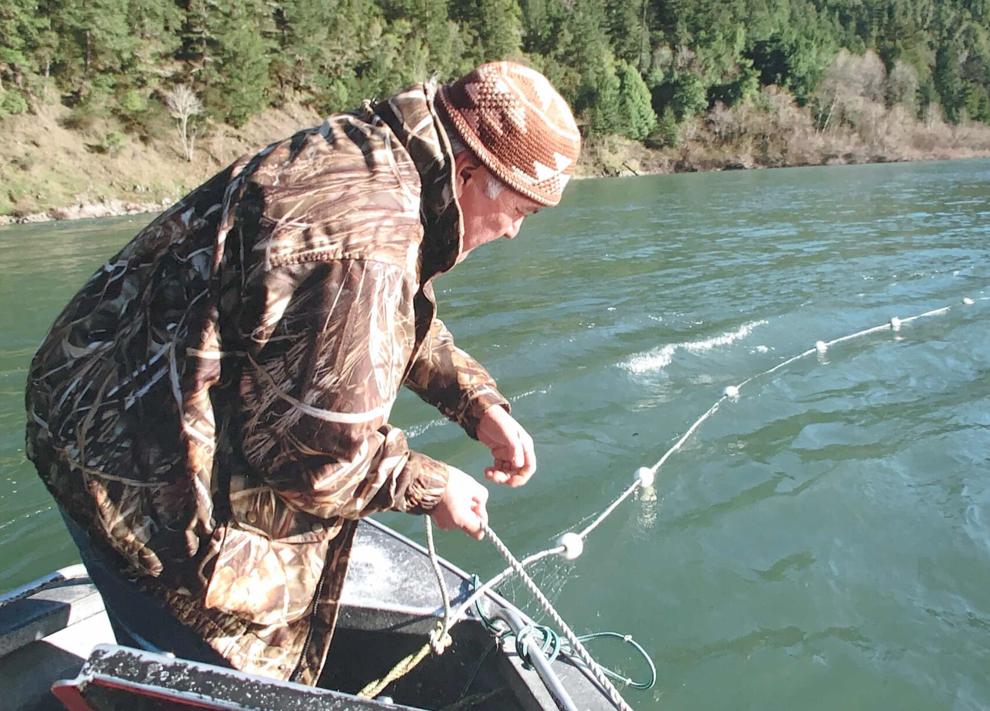 Raymond contributed so much to his community, but his life's work was fighting for the River, and continuing his family's long tradition of advocating for Yurok rights. Raymond grew up hearing stories from his mother, Geneva Mattz. One particular story formed his life's work: in the 1930's a Judge and BIA agent came to the house to tell Geneva's grandfather, Billy Brooks, that he couldn't fish any more. Brooks got very angry and speaking loudly, he pointed toward rock at the mouth of the Klamath River, and said "see that rock down there that's our fishing rock. My family has always fished there and we will always fish there. No white man is going to tell me I can't fish. Now get the hell off my land and don't you ever come back here!" Just as his grandfather and generations from the beginning of time did, Raymond continued to fish on the Klamath RIver. As a teenager, Raymond and four others were fishing when state game wardens picked up their nets at Brooks Riffle and arrested Raymond. At that moment, Raymond decided he was going to fight for his inherent right to fish. Raymond changed the course of history when his fight went all the way to the United States Supreme Court. His case, Mattz v. Arnett, decided in 1973, was a landmark court case that not only affirmed Yurok people's fishing rights, but confirmed the status of the Yurok Reservation as Indian Country, affirming the Yurok Tribe's sovereignty as we know it today. This case also paved the way for many other Tribes to affirm their civil liberties as Native people.
Raymond's victory in the Supreme Court case came after decades of work to protect the Yurok way of life and with a cost. He was arrested numerous times for fishing on the River and was labeled a renegade, an outlaw and was targeted by law enforcement. Raymond's children witnessed both of their parents being arrested numerous times for fishing, including law enforcement entering the family's home in the middle of the night with guns drawn, looking for fish. Even this targeted racism and violence didn't stop Raymond. During the late 1970's, Raymond stood in direct protest to the government's closure of the Yurok fishery and clashed with federal agents in full riot gear on the Klamath River during the Salmon Wars. He and many others were arrested and charged with felonies just for protesting for their inherent rights as Indian people; rights the federal government had a duty to uphold.
His years of fighting to protect Yurok fishing rights and the Yurok way of life left a heavy burden on this Fish and River Warrior and his family - scars that only those close to him saw. He wore them with pride trying to cover up the pain they caused. For those who enjoy fishing on the Klamath RIver today and will for generations to come, we should remember Raymond as our Martin Luther King, our John F. Kennedy, our Billy Frank, because he was our civil rights activist, he was our River Warrior, he was our sovereignty protector. He fought for our rights on the River bar, in Congress, and the Courts. He put his heart, soul, and life in danger so that we could fish and practice our culture. And thanks to him, we are able to fish and practice our way of life and sovereignty safely. While he is gone, we know he will continue to watch over the River. Fish on Cool Ray!
He is survived by his twin brother, Marvin Mattz, sister Lavina Bowers, wife Linda Mattz and children Gloria, Randy, and Noah Mattz, Tina Whipple and Tony Folkins, Grandchildren Erika Mattz Meyer, Hawk Mattz, Hunter Mattz, Courtney Toledo and Nicole Mattz; great-grandchildren  Aiyana, Layla and Tey-Poh Meyer; Xavier Mattz; Carlee Mattz-Colegrove, Akdiine Mattz and many nieces, nephews who he loved and enjoyed being with as much as Fishing.
To plant a tree

in memory of Raymond Mattz

as a living tribute, please visit Tribute Store.